Neo-Gothic Architecture
: (1905 - 1930)
Skyscrapers and churches of the 20th century share many of the same characteristics as early medieval structures. The Gothic style itself borrowed many of its ideas from Romanesque architecture. In the early twentieth century, Gothic Revival ideas were applied to modern buildings and homes in the United States. These buildings are given the name "Neo-Gothic". (1)

Areas of Use/ Inspiration:
Gothic architecture is sometimes said to have originated at the Abbey of Saint-Dennis, Paris in 1140. People also believe that the era ended in the early 16th century with the completion of King Henry VII's Westminster Chapel. However, the use of Gothic ideas did not end abruptly. Instead, these ideas began to be incorporated into newer cathedrals and the construction of churches in the more rural places of England, France, Spain, Germany and the Polish-Lithuanian Commonwealth. (2)
Characteristics:
The Gothic architectural style is most memorably known for its use of strong vertical lines and ability to create a powerful sense of height. Pointed arches were commonly used to embellish windows and entryways. Other traditional Gothic elements include the use of steep gables, ribbed vaulting, tall towers, and an overall dramatic looking appearance. Calvert Vaux's cast-iron bridge in Central Park, New York demonstrates the use of openwork forms taken from Gothic blind-arcading and window tracery to express the spring and support of the arching bridge, in flexing forms that presage Art Nouveau. (2)
Materials:
Architects of this era were able to create seemingly impossible designs by using the flexibility and strength of cast iron. An example of such a design can be seen in Calvert Vaux's cast-iron bridge in Central Park, New York. In some countries, limestone was commonly used because of its very fine white appearance. In England, coarse limestone and red sandstone as well as dark green Purbeck marble were often used for architectural features. This gave the building a very unique outer appearance because of the different looks created by textured stones. (2)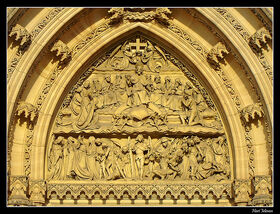 Famous Buildings:
- The Tribune Tower: Chicago, IL
- Woolworth Building in New York City
- Casa Botinesby Antoni Gaudí in Barcelona Spain
- Vysotniye Zdaniye in Moscow, Russia

Links
References:
http://architecture.about.com/od/periodsstyles/ig/Historic-Styles/Neo-Gothic---Gothic-Revival.htm (1)
http://en.wikipedia.org/wiki/Gothic_Revival_architecture (2)
Community content is available under
CC-BY-SA
unless otherwise noted.